Since the ending of Frollo Gets Flashed by a Gothic Lolita, almost every episode would end with a character or celebrity saying, "The Frollo Show" with a drawing of that particular character next to the show's logo. There's a different character each time. The audio sources are usually from fans who audio-recorded their encounter with that celebrity or TFS characters say The Frollo show via voice-actor mixing.
Frollo says "The Frollo Show."
ORIGINAL SOURCE: Tony Jay as Chairface Chippendale saying "Oh, hors d'oeuvres and a floor show! How can we ever thank you?"
The Tick (1994-1997) Season 1, Episode 2: The Tick vs. Chairface Chippendale.
Intro: Lemongrab says, "It's time for The Frollo Show."
ORIGINAL SOURCE: Justin Roiland as Blendin Blandin saying "It's Time for The Floor Show!"
Gravity Falls (2012-2016) Season 1, Episode 9: The Time Traveler's Pig.
End: Marco Antonio Regil
ORIGINAL SOURCE: A Live Q&A from Marco Antonio Regil's Twitter page.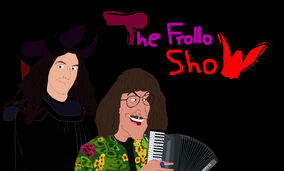 Part 2 (Frollo Story) Edit
Intro: (none)
End: "Weird Al" Yankovic (cosplaying as Frollo) with Frollo laughing and dressed up as Weird Al's classic 80's look.
Part 3 (The PITy Story) Edit
Intro: (none)
End: James Rolfe (aka Angry Video Game Nerd)
Part 4 (The Friends Story) Edit
There's no Character Sign-offs for The Friends Story as it was likely replaced by the Patreon Shout-Outs.